Life is filled with in-between moments, those times when you find yourself wading through life's water, having left one shore to get to another. You're never quite sure how far off that other shore is; it can be foggy, or wavy, or cold – ­so you just keep wading forward with heavy feet trusting (and hoping) that you'll get to where you're going.
Even if you're not sure where you're going.
Sometimes it isn't enough to just flip on the next Jennifer Aniston feel-good, stick your nose into the latest Dan Brown book, or turn on bubblegum happy time Katy Perry music. No, sometimes you gotta take a deep dive under that water you're wading through to get some answers.
I've had a few in-between times myself. Haven't we all? When I take a walk back through my in-between times, I alight on some of my favourite pieces of writing, film, and music – ones that thrive in the in-between spaces of life, transforming ambiguity into a thing of beauty.
10 Items for the In-Between Times of Life
1. The Prophet, by Kahlil Gibran
A book of 26 prose poetry fables about different life scenarios (e.g., love, eating and drinking, friendship, etc.) that a friend of a parent suggested to me as a teenager. The book, with its yellow cover and drawing of an unsmiling man, looks a bit unimpressive at first, but upon reading each of the individual fables, you'll feel a question being answered – a question you didn't know you needed the answer to.
"You talk when you cease to be at peace with your thoughts." – The Prophet
2. Wild Geese, by Mary Oliver
This poem is simply a beautiful reminder of what it's all about (life, that is). I have a fantasy of being at a special dinner and tapping the side of a glass to call attention; then standing up and reciting this poem. I'll let you know when that happens. 🙂
Wild Geese
You do not have to be good.
You do not have to walk on your knees
for a hundred miles through the desert, repenting.
You only have to let the soft animal of your body
love what it loves.
Tell me about your despair, yours, and I will tell you mine.
Meanwhile the world goes on.
Meanwhile the sun and the clear pebbles of the rain
are moving across the landscapes,
over the prairies and the deep trees,
the mountains and the rivers.
Meanwhile the wild geese, high in the clean blue air,
are heading home again.
Whoever you are, no matter how lonely,
the world offers itself to your imagination,
calls to you like the wild geese, harsh and exciting –
over and over announcing your place
in the family of things.
3. Mulholland Drive, by David Lynch
I saw this film in my early 20s in a small theatre in Montreal with French subtitles, and it blew my head off. What I like about David Lynch is that half the time you're watching his stuff you're like "What the fuck?" – but behind all of his WTF moments there's a thread connecting it all.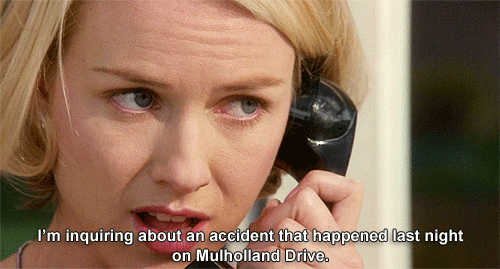 Sometimes what's supposed to feel normal about life actually feels very weird –almost creepy. You're stuck in the middle of that creepy weirdness just walking along like everything is normal. When I'm struck with that feeling, David Lynch is the kind of hilariously fucked-up mind trip I need to tell me that other people know what it's like.
4. McCelligot's Pool, by Dr. Suess
My mom could have read this to me every night as a child and I would have been captivated every time. What is it about those little doorways into parallel worlds that children understand so well? I've always loved ponds and rivers – I grew up around them, constantly searching for critters, catching them, then releasing them back into the water. It's a place my imagination will always return to, and sometimes, during in-between times, all you need is your imagination.
5. The Hours (film)
What a perfect film. Each time I watch it, I understand a little more about time, memory, immortality. These concepts tend to be elusive; our minds can't hold on to them from one moment to the next; and yet, we are constantly compelled by them.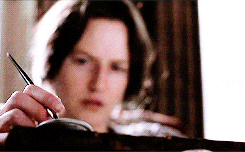 The Hours has a way of bringing all that together, as though the film is a single thought about life that can't exist as a single thought.
6. Björk, Post
Dear Björk,
Thank you. You made my angst-filled teen years make a little more sense.
Love, Mike.

7. How to Live Like a Chipmunk and Other Tips on Living an Awesome Sauce Life, by Patty Lowry
It's kind of like a survival book – but for life. Sometimes the in-between moments are all-about perspective, and Patty's way of seeing the world is refreshing – a way I wouldn't have thought about if I hadn't read her book.
"There are many ways to search for nuts and many paths to wander in the forest of life. This is the path that I took." – Patty Lowry
8. Movies from the 80s
Maybe I'm on an 80s binge at the moment, what with Stranger Things bringing it all back up. But there was something about quintessential 80s films that got lost in the grungy banality of the 90s and the polished to death consumerism of everything after the year 2000. What happened to some good ole melodrama for the sake of melodrama?
A few of my favourites:
Working Girl, Aliens, Heathers, Terminator, Weird Science, The Thing, Nightmare on Elm Street, Stand by Me, The Lost Boys.
9. Giovanni's Room, James Baldwin
Wow, what a book. I read it in one sitting late at night. It's a heavy read, but so is life, you know? So chock-full of that life wisdom only narrative can express, and I owe a lot of my writing style to being infatuated with James Baldwin's.
"I remembered that life in that room seemed to be occuring beneath the sea, time flowed past indifferently above us, hours and days had no meaning." ― James Baldwin, Giovanni's Room
10. Your memories
When I was living in Australia I met a guy who told me the best photographs you'll ever take are the memories in your head. This was back in the early 2000s, when camera phones weren't everywhere. We hadn't yet been #blessed with the selfie, either.
I didn't know what he meant at the time, but I do now. There are times, now, when I can close my eyes and transport myself back to my travelling days – and I can feel, see, smell everything that I did then. It's like I'm there, but in a private way that only I can experience.
A picture will never replace a memory.
What's your go-to film, book or music that sees you through those in-between moments? Let me know! I need some new ones. 😉