So there I was the other night after a fresh haircut feeling particularly dapper, when a compulsion washed over me and I did something I've never done before:
I took a selfie and posted it to Instagram.
My first impulse (as I sit here writing) is to distance myself from the act of selfie-taking as though an I'm-not-sure-what-happened impulse possessed humble old me: the quietly confident guy who proudly advertises he hates being the centre of attention. I could even say I was "just giving it a try" as a social experiment for my blog to see what would happen.
But that's not the case. This wasn't a gather-my-friends-together type of selfie, either, or a picture of my cat that I "just happened" to also be in. It was an actual selfie, involving me by myself finding the best lighting, best background, and turning my face just so as to catch the light in the way I wanted.
Posting the selfie was by no means a quick decision, either. Having loaded the picture into Instagram, applied my favourite filter, written a wittily detached caption, and chosen a few ironic hashtags, I lay in bed with my finger over the Share button – and I waited. I waited because my mind was flooded with doubt about the narcissistic act I was about to commit before the eyes of friends, co-workers, family and random strangers.
But as with any Internet action, I assuaged my anxiety by reminding myself that I didn't have to get up on stage to present my selfie to an audience and explain my reasons for taking it. No, all I really needed to do was push a button. So I took a breath and hit Share, waited for the picture to upload, then switched my phone to Airplane (as I normally do at night) and fell into a sleep that was disturbed by a question:
What have I just revealed to the world about myself?
Our Love/Hate Relationship with Social Media
Without a question, social media elicits a lot of groans from we – the humans – who use it. We hate social media, and blame that hate on the narcissism, uneducated opinions, and slow decline of human intelligence we bear witness to on our newsfeeds. Even more so, we hate ourselves for being drawn back to it, time and time again.
Social media is the bad relationship we just can't quit.
But like all things in life, there's good and bad to social media – and today I'd like to focus on what's good about it. Because there is some good about it, especially for someone like me (and perhaps you) who identifies as a person with social anxiety.
Social Media Might Seem Fast – But to Me, It's Slow
We describe the information on the Internet and social media as "fast" information – but from where I'm sitting, it's slow. Whereas in the "real" world the pressure to respond on-the-spot can be anxiety-inducing, on social media we have more time.
Any of my blogs, for example, have never been written over the course of one day. Very rarely do I write a social media post and send it on-the-spot (I schedule them, in fact). Even when I do send something in the moment, I still have more time (even an extra minute) to formulate a thought into a Tweet before sending it.
In social situations where I might otherwise remain quiet while others speak over me, and the moment passes me by, instead I'm able to say what I want when I'm ready. For someone who naturally takes longer to formulate a response – not because I'm cognitively slow, but because I need to think before I speak – social media's slow-ness is a thing of beauty.
But Isn't Social Media Disingenuous?
As I mention on my About page, I am aware that I can come across to others as someone different from whom I feel myself to be. I've grown to accept this – and part of accepting it means that I do try to be mindful about how I come across, because life is about adapting to the situation. On the flipside, another part of accepting myself means allotting a judgment-free window of time when I can be alone, recharge, and not think about any of that (hello pizza and wine by myself Friday nights).
But none of this self-negotiating happens online. Social media provides me with a place I can express myself as I choose. I can hone in on the person I want to project to the world (my personal brand, if you will) and show it consistently. For this reason, one might argue that our online selves are inauthentic because we only show others what we want them to see.
Newsflash: All of us edit our selves in the eyes of those around us. It's just that some of us are better at it than others. While I've learned to manage my anxious personality, sometimes I forget and the anxiety shows on my face or in my mannerisms. I don't mean to show it, it's just that sometimes I lose focus.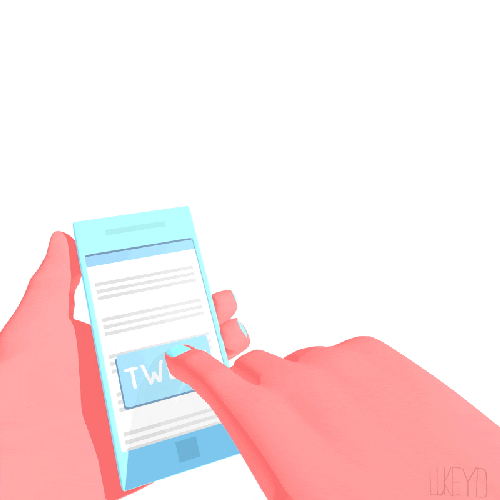 On social media, my anxious personality doesn't show – that is unless I choose to show it (as I'm doing right now). I will always be a little bit anxious, and where I might be disadvantaged socially in the "real" world because of that, on social media I'm not.
Social media frees me from my social anxiety.
What's Wrong with Wanting to Be Noticed?
As much as I claim to "hate" having attention drawn to myself, in actuality that's only partly true. It's true that opening a birthday present in the centre of a circle of people sounds like a nightmare to me; however, the opposite is true when I gain a new follower on social media, or get a comment on one of my blogs. This makes me happy and motivates me to keep doing what I'm doing.
Social media levels the playing field because it provides a stage we can use to get noticed, but in a way that feels less scary.
When I woke up the morning after posting my selfie to Instagram and switched Airplane off, I lay in bed waiting uncomfortably as the 4G bars reconnected, one by one. In that moment I was flooded with doubt:
Had I exposed myself as a narcissist?

Would my brand be different now?

Did I induce groans from my Instagram followers?
But as I clicked the Instagram logo on my phone, I realized something: I wouldn't find the answers to those questions in the number of likes I got on my picture. No, those questions will always be unknowns. It's how I respond to that doubt that matters: I can allow my doubts to dictate my choices, or I can muscle through and show my anxiety that I'm the one who controls my life.
I may be a person with social anxiety, but my anxiety is not who I am. On social media, I'm the one who gets to take the picture of myself that I want to show to the world, and – as someone who will always be a little bit anxious – that's a pretty cool thing.
But first, let me take a selfie.  😀